Charity Support
Our Partners
Plumbing World is part of the NZPM Cooperative. One of the 7 guiding principles for Cooperatives is 'Concern for Community'. We therefore support a number of organisations and initiatives that reflect our concern for the needs and sustainability of our current and future generations. In particular we support 3 cancer charities.

These types of cancers affect many New Zealanders and we want to lend our support to these organisations who are helping to raise awareness, educate and support the community while also using funding to help with research for these life threatening illnesses.
---

The Prostate Cancer Foundation plays a significant role in raising public awareness of this disease, the most common cancer in NZ men.

More than 3000 New Zealand men are diagnosed each year and 600 will die, the good news is that early detection can lead to better outcomes. It is important that men are aware of the need for annual checks from their doctor as many will not experience any symptoms.

The Foundation seeks to eliminate death and suffering from prostate cancer, through raising awareness, providing support services, funding research and advocating on the interests of patients.
PCFNZ Website | Follow PCFNZ Facebook
---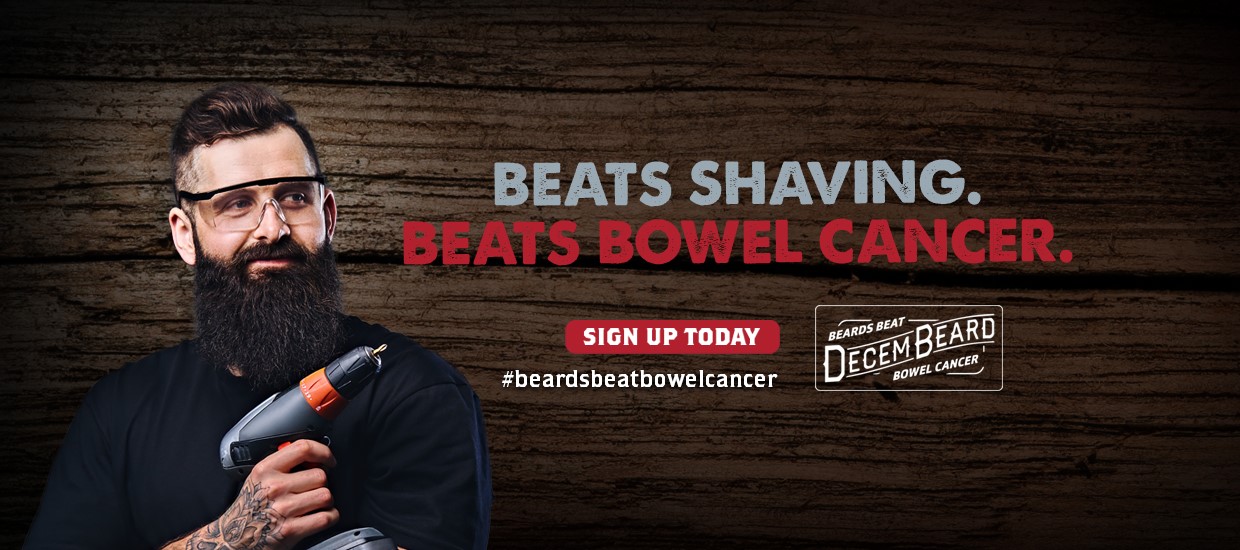 THIS DECEMBER
Grow a beard, raise funds and help beat bowel cancer!
Its time to get beardly serious about bowel cancer, it's the second highest cause of cancer death in New Zealand and kills as many of us as breast and prostate cancer combined - it can also affect anyone at any age. During December alone 250 of us will be diagnosed with the disease and more than 100 will lose their lives. On the upside, bowel cancer is treatable and beatable in more than 75% of cases, if caught early enough.
How to take part in Decembeard
Sign up and register as an individual or get your mates together and register as a team. 100% of funds raised by your facial fur will be used by Bowel Cancer New Zealand for awareness, education, research and to support people living with bowel cancer. So what are you waiting for, give your razor a rest and sign up for the challenge!
Sign Up Today!
---

Bowel Cancer New Zealand is a nationwide, patient and family-led charity committed to reducing the impact of bowel cancer on our community through awareness, education, support and research.

The charity was founded in 2010 by a group of people affected by bowel cancer, with the support of clinicians committed to improving bowel cancer awareness among the general public and health professionals. Bowel Cancer New Zealand aims to provide clear and up-to-date information about the disease, symptoms, what to do if diagnosed, and treatments available.

More than 3,000 New Zealanders are diagnosed with bowel cancer every year and 1200+ will lose their lives. But the good news is bowel cancer is treatable and beatable. In fact, more than 75% of bowel cancers are curable if detected early.

Bowel Cancer New Zealand is delighted to be partnering with Plumbing World to help spread our vital lifesaving awareness and education work to all New Zealanders. Together we can make a difference and save lives!
BCNZ Website | Follow BCNZ Facebook
---

The need for NZGCF arose from a realisation that in New Zealand, 3 women are diagnosed, and 1 woman dies every day from a women's cancer. This equates to 1,000 New Zealand women being diagnosed with a women's cancer each year.

NZGCF is a not-for-profit organisation and is reliant on grants and donations from the New Zealand public. Our mission is to educate women and the wider community about the signs and symptoms of women's cancers as early detection can help save lives. NZGCF supports women affected by the gynaecological cancers at all stages through their journey.

Let's save lives! Your support is greatly appreciated.
NZGCF Website | Follow NZGCF Facebook
wasnowsavefromtoapprox