Puretec PureMix Highflow Inline Filter System
Product code: PUREMIXZ7
This item hasn't been reviewed yet.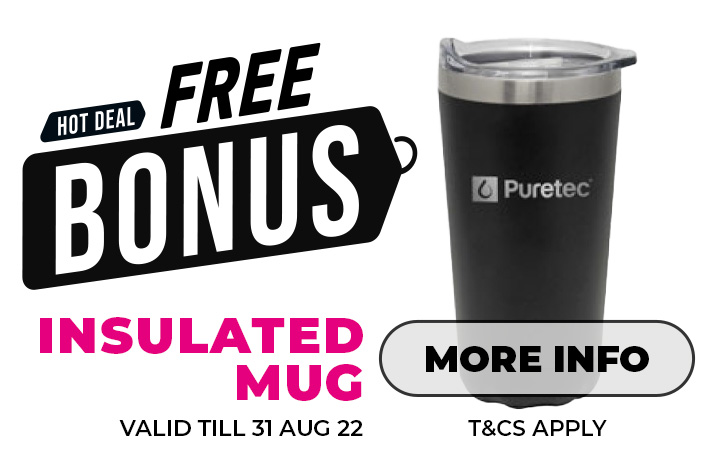 Terms and Conditions
Applies to products as shown in this catalogue. Available in-store only. Not valid with any other offer. Expires 31st August 2022. Available 1 July - 31st August 2022. Saving based on normal RRP prices. Prices include GST. Offers available with new orders placed by dealers within the promotional period.
The All NEW PureMix X7 has been engineered to provide maximum flow performance for lower pressure and high sediment applications. Transform your existing mixer tap into a filter tap. Mounts horizontally or vertically - no shelf cutouts required. Taste, odour, chlorine and other chemicals are absorbed by the carbon block technology. Scale and lime deposits are inhibited reducing build-up in appliances. Lead reduction - a harmful heavy metal. Quick-twist hygienic cartridge changes DIY.
Want to see me in-store?
Find out if this product is on display in a showroom near you.
Product Information
•Provides pure, safe, filtered water, free of chlorine and harmful cysts
•Designed for mains, rain, harsh and rural water supply
•Filtered down to 1 micron
•No need for a separate filter tap
•Quick and easy installation, ideal for stone bench tops
•Mounts horizontally or vertically-no shelf cutouts required

Freight Calculator
Find out what it will cost to have this product delivered to your home.
wasnowsavefromtoapprox