Puretec Hybrid G9 High Flow UV Water Treatment System
Product code: HYBRID-G9
This item hasn't been reviewed yet.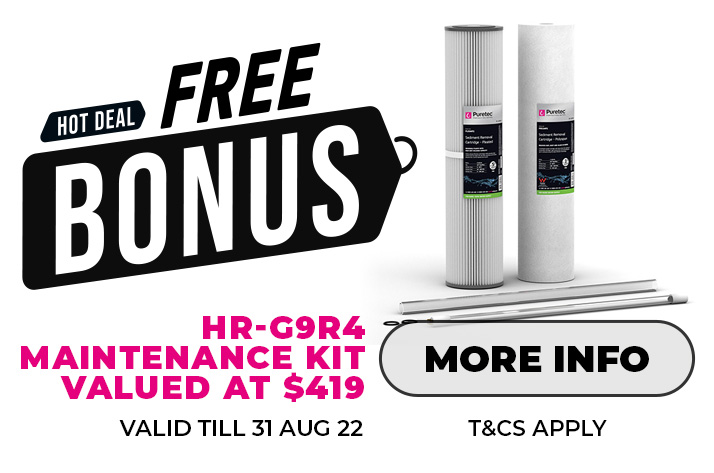 HR-G9R4 MAINTENANCE KIT - VALUE AT $419
Terms and Conditions
Applies to products as shown in this catalogue. Available in-store only. Not valid with any other offer. Expires 31st August 2022. Available 1 July - 31st August 2022. Saving based on normal RRP prices. Prices include GST. Offers available with new orders placed by dealers within the promotional period.
Puretec Hybrid Systems provide safe and purified water at every tap. Designed for both mains and rainwater supply, this filter system is highly effective in eliminating 99.99% bacteria and parasites in your water. The Hybrid Systems also reduces silt, sludge, dirt & rust giving good general purpose filtration.
Want to see me in-store?
Find out if this product is on display in a showroom near you.
Product Information
•3 year warranty
•Dual filtration for extra sediment capacity
•Equipped with a lamp count-down timer and alarm
•Anti-tamper & childproof lockable lid
•Quick and easy plug-and-play installation
•Hinged lid for easy access for lamp change

Freight Calculator
Find out what it will cost to have this product delivered to your home.
wasnowsavefromtoapprox