Robinhood Supertub 7003B Tub and Cabinet
Product code: ST7003B
This item hasn't been reviewed yet.
Receive a $100 Prezzy Card with Purchase
Receive a $100 Prezzy Card with Purchase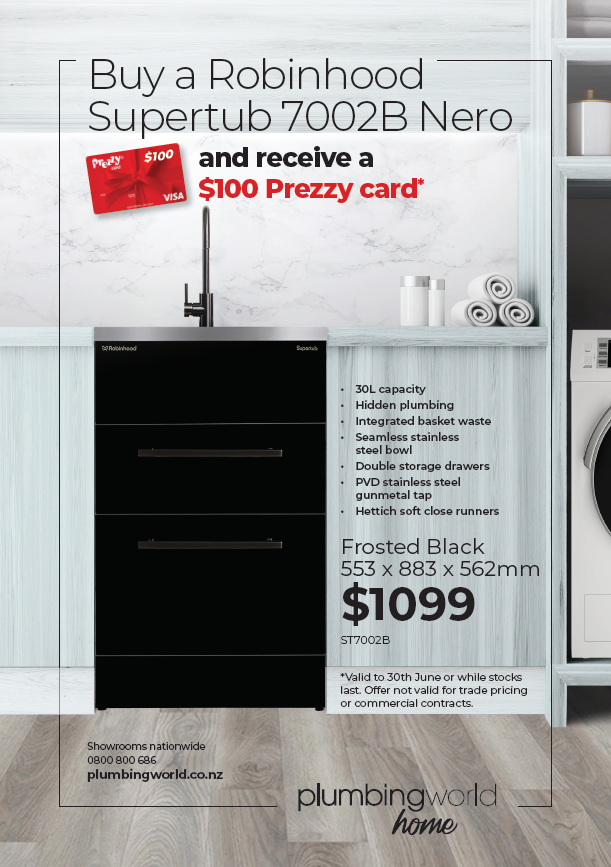 *Valid to 30th June or while stocks last. Offer not valid for trade pricing or commercial contracts.
Supertub Nero is a modern take on the classic ST7003 model. It features a high-quality PVD stainless steel gunmetal tap, square gunmetal drawer handles, and is finished in a frosted black that is sure to stand out.
Want to see me in-store?
Find out if this product is on display in a showroom near you.
Product Information
•5 years on stainless steel bowl, 24 months on tap, cabinet and other components.
•585 x 630 x 970mm
•Stainless steel gunmetal single lever mixer tap
•Double storage drawers
•Hidden washing machine taps
•Large side apertures for washing machine hoses
•Seamless stainless steel bowl
•Powder-coated galvanised steel cabinet

Freight Calculator
Find out what it will cost to have this product delivered to your home.
wasnowsavefromtoapprox